Quality Policy
SPACE IC is specialized in developing and supplying high reliability integrated circuits for space applications. The products are dedicated for flight systems like satellites and launch vehicles. This means absolutely safe and reliable operation under extreme environmental conditions.
SPACE IC products and services meet customer-specific and legal requirements. Customers buying SPACE IC products can expect:
- State-of-the-art technical performance
- Continuous reliability under harsh conditions
- Radiation hardness
- On-time delivery without ITAR/EAR restrictions at short lead times
- Premium applications and design-in support
- Long-term product availability
SPACE IC is committed to continuous improvement and has established a Quality Management System which provides a framework to assure a consistently high quality of products and to enhance customer satisfaction.
ISO 9001
As a supplier of high reliability products SPACE IC has established an advanced quality management system according to ISO 9001 for the development, manufacturing, testing and sales processes. The quality system follows the requirements of the European Space Agency (ESA). Each product becomes validated, screened and qualified according to this system.
An in-depth quality and product assurance is an integral part of our production and supply chain. SPACE IC works with carefully selected manufacturers which are established suppliers within the space industry and fulfill the ESA quality requirements. SPACE IC ensures component quality and traceability through all steps of the production and supply chain by integrating with the suppliers quality management systems and continuous supplier monitoring.
ESCC Compliance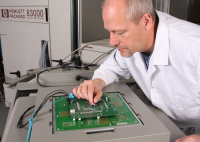 The European Space Components Coordination (ESCC) is an international system for the specification, qualification and procurement of Electronic, Electrical and Electromechanical (EEE) components for use in space programs. The ESCC system provides technical specifications, methodologies for component validation, test and qualification as well as quality assurance requirements.
SPACE IC is committed to follow the ESCC requirements to achieve the needed performance and reliability level for space applications. The SPACE IC quality management system includes the application of the ESCC 24600 requirements.
SPACE IC components are delivered with full screening according to ESCC and are subject to ESCC qualification in close cooperation with ESA. The SPPL12420RH point-of-load converter IC is in ESCC certification in the frame of the National Space Program of the DLR e.V. and is listed in the European Preferred Parts List (EPPL).